1989 Brown Tobiano Stallion, 15 hands, 1100 lbs
Raise Your Glass, TB x Wranglin Kate, by Rocket Wrangler, AQHA
Raise Your Rocket combined the speed, conformation, athleticism and pedigree needed to win in today's competitive world of barrel racing. His foals have been money earners on the track, and in futurity, derby, 1D barrel races and rodeos.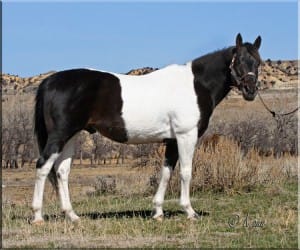 We bought "Grandpa" in May of 2005 and by 2006 we knew we really like his foals.  They are consistently smart, athletic and good looking.  Each one we have seen has his signature smooth floating, flat kneed trot. People who have his riding age offspring all talk about how "turny" they are.
We think he was an ideal cross on My Indian Money's big, powerful, long-strided daughters.
Grandpa spent several years in Canada and his colts there have had an impact on the futurity world.  Recent standout Raisen Hell is a son of Raise Your Rocket.  Another son, Rockets Rusty Bar ran very well for his then-owner Sandy Stewart, including, big events like the Northern Lights Futurity where he placed 3rd!  He's now a money-winning rodeo horse in North Dakota.
Raise Your Rocket's influence in the rodeo arena does not stop with Barrel Racing. In addition to Ross Nevala's good steer wrestling horse Rockets Rocky Top Bar who is a son of Grandpa's, a recent Indian Rodeo Heel Horse of the Year was a Raise Your Rocket grandson named He Got Game. Congratulations to roper and owner Casey Cummins and to our good friend and the great heel horse's breeder, Bruce Fritzler.
Raise Your Rocket died June 4, 2009.  We still miss him.
Raise Your Glass JC
Raise a Native
Native Dancer
Raise You
Champagne Woman
Barbizon
L'Amour Tourjours
Wranglin Kate
Rocket Wrangler
Rocket Bar
Go Galla Go
Easy Kate
Easy Jet
Tobiano Rose
Pedigree Highlights:
Can anyone see a stallion on his pedigree that is NOT a Leading Sire in at least one breed?  We don't think there is one.
Wranglin Kate, APHA is a Champion 2 Year Old race horse.
Easy Kate is a full sister in blood to Easy Jet Too and all of his remarkable full siblings like Jet Music, Easy Country Music, etc.  (In other words, Tobiano Rose is a full sister to Indian Music herself.)
Photos of Raise Your Rocket and his offspring.
Here are some pictures we have scrounged from various places and two shots from early 2006.  He's a beautiful horse, even in his later years.  Please click on a photo and a lightbox slideshow will load that you can advance to see the rest of the photos.